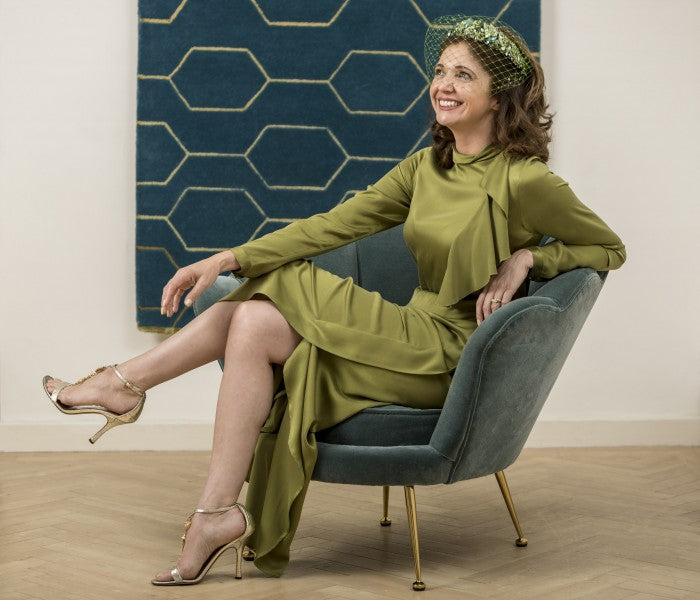 TURNING HEADS WITH CAROL KENNELLY – LADIES DAY SORTED
Back in August 2010, having just been named best-dressed lady at the Galway racesLadies Day and on the cusp of starting her now thriving millinery business, Carol Kennelly was invited by Celia Holman Lee to take part in the prestigious Rose of Tralee Fashion Show. Celia kindly pointed Carol in our direction and let's just say, the rest is history. 
Over the last seven years, Carol's designs have put the finishing touches to many a mother-of-the-bride and ladies day outfit at Macbees, and we have styled countless fashions shows together. The Rose of Tralee Fashion Show this August will be the eighth time we combine Carol's creations with stunning outfits from Macbees – it is always a spectacular way to start the A/W season and includes the best of our premium occasion-wear.
We created our deco inspired set with beautiful pieces from Hal-Lou Furnishings Killarney.
At Macbees we champion strong, confident women with a real sense of individuality – so it's obvious why we invited Carol to model for us this season. We are all about transcending trends and recognising genuine style, and we love the fact that so many of our pieces can be worn again year after year and still retain their appeal; the same can be said for Carol's.
We were delighted that Carol agreed to get in front of the camera to showcase this season's show-stopping looks for us, combining crimson structured pieces with the couture styling of Fely Campo, a feather-topped cocktail hat with a kimono from Cacharel and donning a bejewelled crown with our Notes du Nord gown.