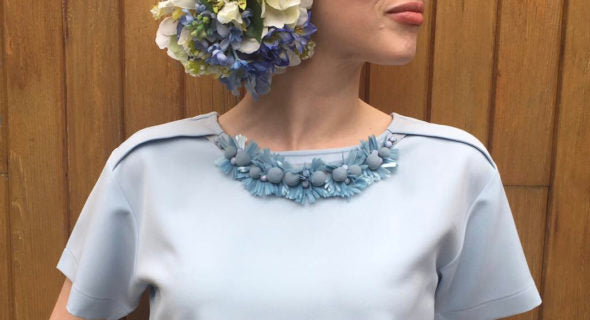 SHOWCASING IRISH FASHION DESIGNERS IN THE RUN UP TO PADDY'S DAY
We are lucky, indeed, to live on this emerald isle free of snakes and full of talent. At Macbees we think it's very important to cultivate and support Irish creativity and craftsmanship, and over the years we have been lucky enough to stock John Rocha, Paul Costelloe and Louise Kennedy as well as up-and-coming talent Natalie B Coleman, Joanne Hynes and Lennon Courtney. We currently stock Aideen Bodkin, Caroline Kilkenny, FeeG, Roisin Linnane and Heidi Higgins, alongside accessory designers Debbie Millington, Susannagh Grogan, MoMuse and Vivien Walsh.
Aideen Bodkin trousers suit worn with Carol Kennelly headpiece
Inspired by the WearingIrish movement spearheaded by Margaret Molloy, who in 2016 set out to tell the untold story of contemporary Irish fashion design by using the power of social media, we decided to showcase all things Irish in the run-up to Paddy's Day. Here at Macbees we have always championed contemporary Irish design and highlighted up-and-coming home-grown talent. We were delighted this year to have the gloriously creative Carol Kennelly on hand to help install our Irish-themed window with the spring/summer collections of Caroline Kilkenny and Aideen Bodkin topped off with Carol's own amazing hats and complemented with MoMuse jewellery.
Carol wearing Aideen Bodkin
Caroline Kilkenny dresses with Carol Kennelly headpieces
Carol wearing Caroline Kilkenny dress with Carol Kennelly hat
As an independent family-run boutique, we appreciate the support that we get from our customers, which in turn means we can support these designers – we believe independent business promotes individuality. We're looking forward to the new generation of innovative Irish design coming our way!
Aideen Bodkin with Carol Kennelly headpieces & Momuse jewellery